John Alden Melenric, 88, of Alvin, TX passed away on Tuesday, September 17, 2013.
He was born on November 5, 1924, in Gallagher, West Virginia to William J. Melenric and Nora Burke Melenric.
He lived in Alvin, Texas for 21 years. He attended college at West Virginia, Alabama, University of Southern California, and Wichita State. He was in the United States Air Force and was a veteran of World War II and the Korean War. He was a test pilot in his early career, and then went into business for himself as an inventor and holder of jet engine patents.
After he moved his family to Houston in 1975, he worked for Combustion Engineering and Bechtel Corporation. He was devoted to his family and made education a priority for his three sons, who all obtained degrees from the University of Houston.
John was preceded in death by his wife of 52 years, Margaret Melenric. He is survived by his sons, John Melenric Jr., of Alvin, Texas, Joseph Melenric and his wife, Nancy Melenric, of Alvin, Texas and Thomas Melenric and his wife, Cindy Melenric, of Pearland, Texas; five grandchildren, Natalie Melenric, Laura Melenric, Sarah Melenric, Hannah Melenric, and Rebekah Melenric.
The family will be conducting a private memorial service and burial in Kansas.
Memorial donations on behalf of John Melenric can be made to the American Red Cross at www.RedCross.org/Donation.
Condolences may be sent to the Melenric family in care of Jeter Memorial Funeral Home at www.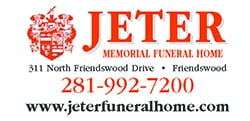 .